The 2014 Honda Accord Sedan vs. the 2014 Nissan Altima

Currently available at our Easton-area car dealership, the 2014 Honda Accord Sedan succeeds in bringing class and sophistication to the midsize sedan class. Whether you commute, need a classy car for work, or want comfortable automobile for your family, the Honda Accord can do all that and more. You can see it for yourself at Silko Honda in Raynham, MA.
The midsize sedan segment is pretty crowded, though, and you may also be considering the 2014 Nissan Altima. To help you decide which model is better, here's a look at how the Accord and Altima compare.
---
Performance
The two sedans give drivers the option of sticking with a base four-cylinder engine or upgrading to a V6 powertrain. Here's a look at the specs for the 2014 Nissan Altima and the 2014 Honda Accord Sedan:
Four-Cylinder Engines – The 2014 Altima comes with a 2.5L four-cylinder capable of 182 hp and 180 lb-ft of torque delivered by a CVT. The Accord has a 2.4L engine that offers 185 hp and 181 lb-ft of torque — or 189 hp and 182 lb-ft of torque with the Sport trim. You have more transmission options with the Accord Sedan, too, with either a six-speed manual or a CVT.
V6 Engines – The Nissan's available 3.5L V6 offers a little less power than Honda's 3.5L V6. The Altima's V6 gives you 270 hp and 251 lb-ft of torque, while the Accord Sedan's V6 offers 278 hp and 252 lb-ft of torque.
---
Gas Mileage
There's a wide range of mpg ratings for the midsize sedan class, but both the Altima and the Nissan are competing at the higher end of the fuel economy spectrum:
Four-Cylinder MPG Ratings – The 2014 Honda Accord Sedan LX with CVT is rated at 27 mpg city and 36 mpg highway.* While not as powerful, the Altima sedan comes in at 27 mpg city and 38 mpg highway.
V6 MPG Ratings – The 2014 Altima's mpg drops quite a bit with their V6 engine, to 22 mpg city and 31 mpg highway. The 2014 Honda Accord EX-L with V6 engine and six-speed automatic transmission is rated at 21 mpg city and 34 mpg highway.*
---
Safety
Whether you're looking around Easton for a car for your family or just yourself, safety should be the top priority. In this category, we'll look at standard and available safety features, along with safety ratings: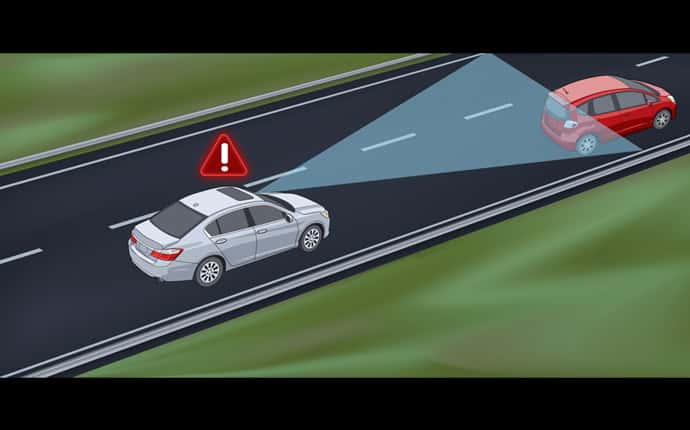 Standard Safety Features – The 2014 Altima and 2014 Accord are equipped similarly, with anti-lock disc brakes, side curtain airbags, and other standard safety equipment found on most vehicles. The primary difference is that the 2014 Accord includes a standard rearview camera that makes backing up and parking a lot easier and safer.
Optional Safety Equipment – The two models can also be equipped with a lane departure warning system and blind spot monitoring. The Nissan, however, doesn't offer any equivalent to the Honda Accord's front collision warning system.
Safety Ratings – In IIHS crash testing, both sedans earned top "Good" scores in the moderate-overlap front, side, and roof-strength tests. The 2014 Nissan Altima only earned an "Acceptable" score in the small-overlap front crash test, though, while the 2014 Honda Accord Sedan passed the test with the highest score. The 2014 Altima still earned a Top Safety Pick rating, but that's below the Accord's Top Safety Pick+ designation.
---
Exterior
The Altima and Accord are very sophisticated vehicles with immaculate designs that exude refinement. We think that the only negative to offer is that the Altima is a little bit conservative and old-fashioned with its styling, while the Honda Accord offers edgier lines. Overall, the Accord looks closer to a luxury sedan while the Altima looks like a lesser version of the more upscale Nissan Maxima.
The only major difference in exterior features is the Altima can be equipped with xenon headlights while the Accord Sedan can be equipped with LED headlights. Each is certainly brighter and more efficient than standard halogen lights, but we've got to tip our hat to LEDs for their lower energy consumption.
---
Interior
Raynham drivers may note that the Altima and Accord are similar in many ways, but in terms of features, the 2014 Honda Accord Sedan offers more than the Altima. At its base level, it gives you dual-zone automatic climate control, an eight-inch display screen, USB connectivity, and Pandora internet radio. The 2014 Altima gives you Bluetooth connectivity. In order to get most of those features, you would have to upgrade to the Altima's SV trim.
---
Make the Final Decision at Silko Honda in Raynham
Due to its long list of features, sporty performance, and high safety ratings, the 2014 Honda Accord Sedan is definitely worth your consideration. To test drive the latest Accord Sedan and make the final decision, come to Silko Honda. We're located in Raynham, MA, not far from Easton, at 1580 New State Highway.