2015 Honda Accord Coupe vs. 2015 Honda Civic Coupe
If you are looking for a stylish new coupe, you can find two appealing options at Silko Honda, an Easton-area Honda dealership. Both the 2015 Honda Accord coupe and the 2015 Honda Civic coupe offer high fuel efficiency ratings, roomy interiors, and lots of features and options. This guide will help you distinguish what is different about the two models so that you can pick the car that is right for you. Check out one car, or both, at Silko Honda in Raynham.
Both Vehicles at a Glance
The 2015 Honda Accord
Offers a V6 engine option that puts out 278 hp and 252 lb-ft of torque.
More room for passengers and a large trunk with 13.4 cu-ft of space.
Is available at four distinct trim levels with many features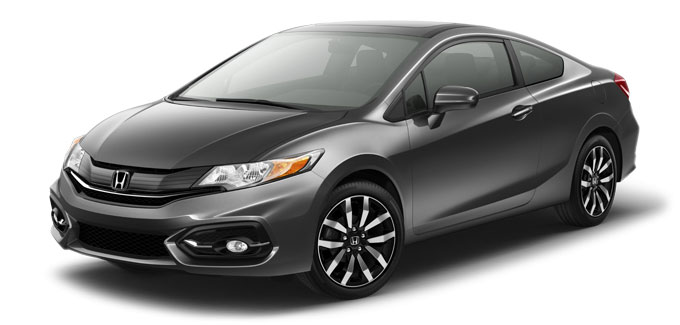 2015 Honda Civic
The 2015 Honda Civic coupe fuel efficiency ratings go as high as 30 mpg in the city and 39 mpg on the highway with LX CVT models*
Base trims start at only $18,290**
Is available at four distinct trim levels, including the performance-oriented 2015 Honda Civic Si coupe.
How Much Space Do You Need?
The clearest difference between these two vehicles is that the 2015 Honda Accord is larger. Both offer seating for five and ample trunks, but if you regularly travel with five adults, a car seat, or lots of cargo, you might prefer having the extra space inside the Accord. Conversely, if you have to contend with heavy traffic or tiny parking spots on a regular basis, you might prefer the nimble agility afforded by the smaller-sized Civic.
How Do You Drive?
The standard engine in the Accord is a 2.4L four-cylinder that puts out 185 hp and 181 lb-ft of torque, and both manual and automatic transmission options are available. The Civic comes standard with a 1.8L four-cylinder that produces 143 hp and 129 lb-ft of torque and has manual or continuously variable transmission options available. Either of these basic powertrains is an appealing choice, but the Accord will deliver more power, while the Civic offers better gas mileage.
If you are looking for something more, the Accord has the only V6 engine available, and it sprints to 60 mph in an impressive 6.1 seconds. The Civic Si coupe is not quite as speedy—reaching 60 mph in 6.8 seconds—but it offers a refined suspension, responsive steering, and an advanced manual transmission that gives the driver complete control over the driving experience.
Vehicle Price and Features
Price is another important consideration. The 2015 Honda Civic Coupe has an introductory price of just $18,290**, while the 2015 Accord Coupe starts at $23,775. If you are trying to get the most car for the least amount of money, the Civic is the smart choice, but the Accord is able to deliver greater levels of luxury, especially at higher trim levels.
No matter which vehicle you select or which trim, you can expect your Honda to come with advanced technologies and a long list of features. Both vehicles come standard with a rearview camera, iPod/USB hookups on the stereo, and Bluetooth phone and audio connectivity. Moving up through the trims, expect to find leather upholstery, dual-zone climate controls, and integrated navigation systems.
Which Car is Right for You?
Here at Silko Honda, we want drivers in Easton and Raynham to drive a vehicle they love. So which of these models is right for you?
If you like a powerful driving experience backed by a V6 engine and want plenty of cabin and trunk space to work with, the Accord is the right choice.
If you want to spend less money on gas and monthly car payments and like having a vehicle that is easy to navigate through the city, the Civic is the right choice.
Test Drive the 2015 Accord and Civic at Silko Honda
You can find both of these vehicles at Silko Honda located at 1580 New State Highway in Raynham, MA. It takes just 20 minutes to get here from Easton, and we are located right off of MA-24. Work with our friendly sales staff, go out for a test drive, and find your next new car.
** MSRP excluding tax, license, registration, $820.00 destination charge and options. Dealer prices may vary.