Spring Cleaning: Dream Garage Edition

Spring is here, which means it's Honda Dream Garage Season!
As the weather gets warmer and you realize that clutter has taken over your garage, don't fret. You're not alone, in fact, according to the U.S. Department of Energy, 25% of people with two-car garages don't have room to park their cars inside due to clutter and 32% only have room for one vehicle. In a joint effort to take back our garages, we have come up with great spring cleaning tips to help you get that garage clean, organized and ready to be filled with new Honda products.
Spring Cleaning
Step 1: Prepare
Plan to spend a full day or full weekend depending on the size of your garage. Next, gather all your supplies including cardboard boxes, packing tape, plastic totes, and heavy-duty garbage bags. Gloves and a dust mask wouldn't hurt either.
Step 2: Declutter
Go through every single item in your garage and sort them into four piles – Keep, Donate, Sell or Recycle/Toss. A good tip to keep in mind when deciding on what to keep or let go is to ask yourself this question: Have I used this in the past year? If the answer is no, then it's time to let go. Try not to keep things you think you might need someday. If you seem to be having a hard time, a friend can be a helpful extra pair of hands but they'll also be able to help you make those hard decisions, when in doubt.
Step 3: Organize
Now that you've done the hard part and decluttered, it's time to put what you'll be keeping back in a designated area. Label boxes and totes with the contents inside; items go unused once in the garage because we simply just forget it's there. Clear plastic containers are also great because you can see what's inside of them at just a glance. Consider a wall storage system, shelving and/or overhead storage to keep your items neatly stored away allowing for more floor space to park your car.
Step 4: Clean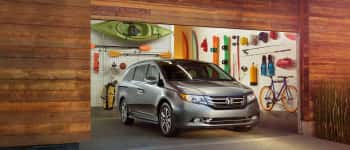 Trash or recycle items you've decided to toss and pack items to be donated in your car to be dropped off. Sweep/hose down the floors to get the dirt out and finally spray for pests. If you have any items you set aside to sell at a yard sale, schedule it now and take pictures of any items you're planning to sell online. Once you've gone through a major spring cleaning spree, plan to do a few mini sessions every couple of months to avoid having to go through the whole cleaning process all over again.
Here's to a great spring, clean garage and new Honda! Find your new Honda today.