Quick Links
---
2016 CR-Z Trim Levels
Honda gives drivers plenty of choices on their hybrid two-seater, and even the fully equipped 2016 CR-Z EX-L with Navigation remains competitively priced.
2016 CR-Z LX
2016 CR-Z EX
2016 CR-Z EX-L Navi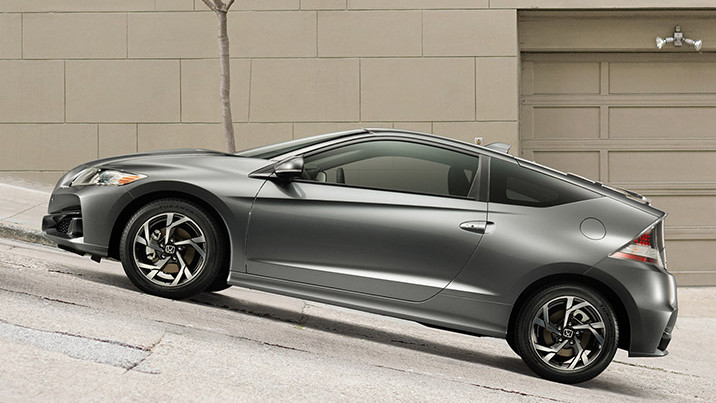 ---
Performance and Fuel Economy
When drivers shop for a new sports car, performance is often at the top of their list, while hybrid drivers tend to prize fuel economy above all else. As a hybrid sports car, the CR-Z manages to commit to both of those ideals by offering three different driving modes: Normal, Sport, and ECON.
Power: Each CR-Z is powered by a 130-hp 1.5L four-cylinder engine paired to an electric motor. 2016 CR-Z 6MT models are rated at 140 lb-ft of torque at just 1,000 to 2,000 RPMs for quick leaps from a dead stop.
Fuel Economy: The 2016 CR-Z CVT earns an EPA-estimated 39 mpg on the highway and 36 mpg in the city for 37 mpg combined.*
Plus Sport System: When you need or simply want that extra boost of speed, the S+ button on the steering wheel primes the engine and lets you feel the full capabilities of the CR-Z.
Drivers tend to worry that a hybrid means "less power," but the reality is that the responsiveness of the CR-Z is actually improved, as it is able to reach its peak torque numbers at a lower RPM. The only effect the hybrid engine has on the CR-Z is making it more fuel efficient, and who doesn't want that?
---
Interior Design
It's necessary for a sporty, two-door coupe to have a sleek interior design, and Honda's sports car brings those same stylish curves to the interior molding and dash, with seamlessly integrated modern tech features. The CR-Z has two comfortable sport seats up front—available with heating and wrapped in leather—and offers plenty of storage space in the rear. The divider between the hatchback storage and the rear shelf and storage compartments can be easily lowered to accommodate a couple bags of golf clubs or the luggage for a weekend adventure.
---
Trims and Features
The 2016 Honda CR-Z offers Easton and Raynham drivers three distinct trim levels— LX, EX, and EX-L—and it's one of the few vehicles to give performance drivers the choice of either a manual or a continuously variable transmission at every trim level.
Even the standard models come equipped with a multi-angle rearview camera, Bluetooth for phone and audio, and push-button ignition. Other highlights include:
Smart Entry: The CR-Z knows when you are nearby, letting you simply walk up and open the door without ever needing to dig for your keys. Just get behind the wheel, press the ignition button, and you're on your way.
Performance Features: The EX trim level adds on a leather-wrapped steering wheel for superior grip as well as a set of textured aluminum pedals to keep your feet where they belong in those sharp turns.
Navigation: While the CR-Z begs to be taken for joyrides, the available navigation system ensures you're headed where you need to be as quickly and efficiently as possible, routing around traffic and construction as well as directing you toward points of interest.
---
2016 Honda CR-Z Reviews
We think that the CR-Z specs and features speak for themselves, but we also have been fond of this fun two-seater since it first hit the market. Here are some of the top 2016 Honda CR-Z reviews to show you that it's not just us at Silko Honda who love the car:
Car and Driver: "The Honda CR-Z is the only hybrid on sale with a manual transmission, and it's a satisfying stick in the best Honda tradition. That's something BMW doesn't offer on the i8. And aside from million-dollar hypercars like the LaFerrari and the McLaren P1, the CR-Z is the only hybrid two-seater out there."
Kelley Blue Book: "[The CR-Z] hybrid commuter car satisfies both your need to be environmentally friendly and your need to drive something that's both fun and flashy."
---
Test Drive a CR-Z Today at Silko Honda
We know that when drivers hear of the idea of a hybrid sports car, many of them pause, but the 2016 Honda CR-Z delivers on the sports car promise of stylish good looks and thrilling performance with one of the best fuel economies in its class. Contact Silko Honda online or by phone at (508) 880-5500 to schedule your test drive of the new CR-Z today. Don't be surprised if you start turning heads the second we head out into Raynham or when you drive home to Easton.