---
The iconic Honda Civic history continues with its legacy as one of the most reliable sedans drivers throughout Raynham and beyond can own. This model has proved its reputation as an affordable, dependable, and valuable option across each of the Honda Civic generations. There have been many Honda Civic body styles leading up to the current Honda Civic years, and each has built upon the success of previous models. The Honda Civic history is rich with awards, accolades, and rave reviews from Civic loyalists and industry experts alike.
Honda Civic: Years of Excellence
The grand opening of our Silko Honda dealership coincided with the Honda Civic first year debut: 1973. We've been proud to see the Civic evolve and continue to innovate year after year. Here's our look back at the ten incredible Honda Civic generations:
First Gen Honda Civic: 1973 to 1979
The Honda Civic first year models arrived just at the right time for Brockton drivers. As a result of the 1973 oil crisis and the new 1975 EPA emissions standards, Americans searched for fuel-efficient vehicles over muscle cars. Cue the subcompact Honda Civic first year debut, which started as a coupe, hatchback, and station wagon. The first Honda Civic was incredibly popular upon release and gave Honda their first major foothold in the US.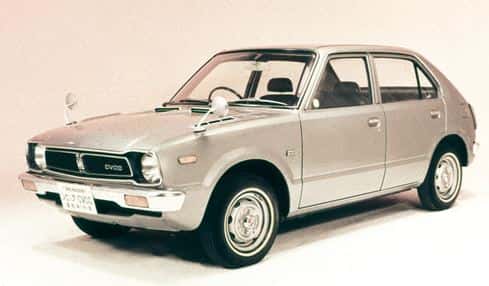 Second Generation: 1980 to 1983
With its second generation, the Honda Civic grew closer to what we know today. The vehicle itself got bigger, and a four-door sedan body style was added for the first time. What was notable for this generation was the introduction of a special FE (fuel economy) trim designed to boost gas mileage and a sport S trim. This last one hinted at the Civic Si models to come.
Third Generation: 1984 to 1987
The Honda Civic's third generation got a little bigger and introduced another new body style: the fastback coupe with just two seats called the Civic CRX. Fuel economy continued to get better for these models and Honda also made them a little sportier. Si models were finally released during this generation, giving performance enthusiasts in towns like Taunton all throughout America a Civic all their own.
Fourth Generation: 1988 to 1991
Honda closed out the decade with some major modifications. Perhaps the most important change was to add double-wishbone suspensions for the front and back. Handling was greatly improved, and the change allowed the Civic to start to become a vehicle of choice for tuners who made aftermarket modifications to turn it into a sports car. Size and performance were increased again. This was also the last generation for the two-seat CRX model.
Fifth Generation: 1992 to 1995
The early 90s Honda Civic years continued to modernize with standard side airbags on all models and the introduction of anti-lock brakes on some trims, making the Civic much safer for drivers in Fall River and elsewhere. New Honda Civic body styles included a four-seat, two-door coupe for this generation, while also trying to replace the CRX with a new del Sol model. It was a two-seat coupe that was longer than the standard Civic, and it featured a lowered rear window and removable roof to give it an appearance similar to a convertible. This generation was also when Honda added their variable-valve timing VTEC engines to the Civic.
Sixth Generation: 1996 to 2000
Honda closed out the '90s by restyling the Civic, though compared to other Honda Civic generations, these weren't as major as the previous ones. While the Civic had always been a great choice for fuel-conscious drivers, Honda changed the game again by introducing a natural gas-powered Civic for this generation.
Seventh Generation: 2001 to 2005
The Honda Civic successfully made it through Y2K and emerged with a dramatic redesign. By switching the double-wishbone front suspension to McPherson struts, Honda was able to make the Civic's interior much more spacious. In turn, this bumped the Civic up from subcompact to the compact car class. Of course, one of the most notable additions to this generation was the very first Honda Civic Hybrid, showcasing Honda's desire to offer a variety of fuel-efficient options for their customers.
Eighth Generation: 2006 to 2011
During its first year, the eighth-generation Civic was recognized as both the 2006 "North American Car of the Year" and the 2006 Motor Trend "Car of the Year." Honda continued with the Hybrid, Natural Gas, and Si models while changing how they approached the coupe and sedan body styles. For this generation, Honda began using different platforms for the coupe and sedan, giving them different driving dynamics.
Ninth Generation: 2012 to 2015
While the 2012 Honda Civic was redesigned from its predecessor, the 2013 model was the first Honda Civic continued with modern features like Pandora internet radio, Bluetooth, and a rearview camera standard, which was unheard-of for a compact car. The 2014 Honda Civic Coupe offered drivers even more upgrades to design and performance. As for the 2015 Honda Civic model, Honda has given buyers more options with a new SE level trim, as well as incredible fuel ratings at up to 41 mpg highway and 31 mpg city. These model years are excellent used Honda Civic models to consider for your next vehicle.
Tenth Generation: 2016-Present
The rich Honda Civic history continues into this beloved model's tenth generation, a long way from the first gen Honda Civic but with the same reputation of reliability. The tenth generation Honda Civic was released in the North American market in November 2015. During this current generation, the first Honda Civic turbocharged engine can be found under the hood as well as the Honda Sensing safety suite as standard in all Honda Civic body styles, trims, and configurations. Also within this most current era of the Honda Civic generations is when the Civic Si and Honda Civic R performance models were unveiled.
Explore the Honda Civic Generations at Silko Honda
Whether you're interested in a brand-new model or a previous Honda Civic generation, you can find them at Silko Honda. Contact us today to learn about our current Honda Civic inventory!