How Often Should You Rotate Your Tires?

---
Raynham auto experts agree that every 5,000 to 7,500 miles is a good interval for when to rotate tires. There are a few factors, though, that could affect your vehicle's exact range. How often should you rotate your tires? Check out these service tips from the team at Silko Honda!
Rotating Tires on FWD and RWD Vehicles
Depending on whether you drive a front-wheel, rear-wheel, or all-wheel drive vehicle, you may need to rotate your tires more frequently in Brockton. These systems send power to the wheels differently, meaning that your front or rear tires can wear down faster than the others. For example, a front-wheel drive car gets more power from the engine on a daily basis, so failing to rotate will result in having to replace them sooner.
Check out these tire rotation tips for FWD and RWD vehicles:
If you're performing a FWD tire rotation yourself, keep in mind to flip sides when moving the rear tires. For example, the rear right tire will go on the front left. However, when moving the front tires to the back, keep them on the same side.
When rotating tires on an RWD car, invert the process above. Flip sides when moving the front tires to the back, but keep the rear tires on the same side when moving them forward.
FWD and RWD vehicles average 5,000 to 7,500 miles between tire rotations, but always check your owner's manual to be sure.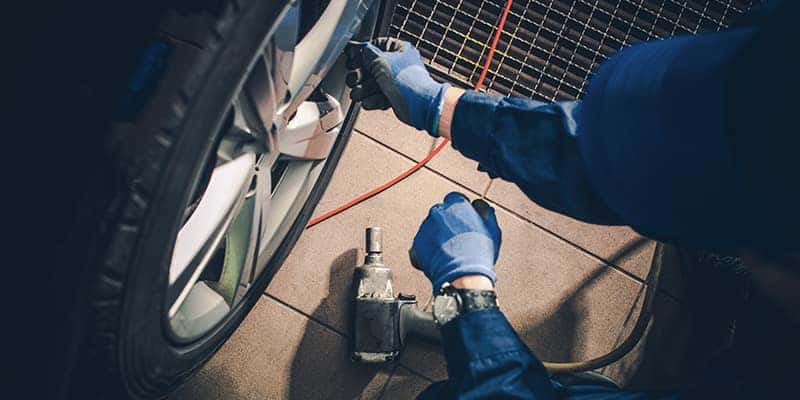 AWD Tire Rotation Tips
For AWD vehicles, the tire rotation interval is closer to 3,000 to 5,000 miles, since all four tires will be actively engaged and wear down differently. In addition, your tires may experience more or less wear and tear due to:
Personal driving habits, such as off-roading or frequent stop-and-go traffic
Harsh weather conditions in Taunton
Rough terrain or bumpy roads
If you're not sure how many miles to rotate tires, schedule service at Silko Honda, and we'll inspect your vehicle to assess whether it's time for a tire rotation.
Why Rotate Tires?
Tire rotations are a key part of routine maintenance, helping to extend the life and performance of your tires. Along with wheel balancing and alignment, this service helps maintain the grip and control you need for safe driving in Fall River, protecting you and your family while also providing:
Less noise on the road
Relieves unnecessary stress on the drivetrain
Improved traction on slippery roads
Take Care of Your Tires with Silko Honda
Proper tire care and maintenance is vital for ultimate Honda performance, so work with the pros at Silko Honda for service you can count on! Take advantage of our current service specials to save even more during your visit, and contact us with any questions about your tires, engine, or any other vehicle component. Stay up to date on your vehicle's service needs with our helpful guides such as how to check your transmission fluid.
More From Silko Honda
The latest Honda HR-V offers a slew of updates that deliver a sleek look and elevated performance. The design of the new Honda HR-V balances the interior space you need and the exterior size you desire to craft the perfect modern SUV. With the HR-V, you'll have plenty of space for passengers and gear, without…

When shopping for a vehicle that will keep you and your family safe on the Brockton streets, Honda should be at the top of your list. The Honda Sensing® safety suite offers an impressive array of safety and driver assistance features to ensure you reach your destination without breaking a sweat. This is especially true…

If you're searching for the right family-friendly vehicle to help you take on the Raynham streets, the last thing you want is to end up with a gas guzzler. That begs the question, how many miles per gallon does the 2023 Honda Odyssey get? The 2023 Honda Odyssey mpg sits at an impressive EPA-estimated 19…