---
Brockton drivers have probably been in a situation where they've had a dead battery. Being on the side of the road or stuck in the parking lot is never fun and if you don't want to call a jump start car service like AAA, getting your car jump started is the typical way of getting running again. Silko Honda is here to give you details on how to jump start a car so you don't find yourself stranded in Fall River!
The Proper Way to Jump Start a Car Battery
If you want to jump start your car battery in Taunton and don't know how, you'll find that the process isn't too hard. You'll need a car with a good battery, as well as a pair of jumper cables. Then, you'll just need to follow the steps that we've laid out for you here:
Park the two cars facing each other and make sure both vehicles are turned off. Turn on both parking brakes.
Open both hoods and locate the batteries. You might have to remove a plastic hood to expose the battery terminals.
Find the negative and positive terminals and ensure that they're clean and free of corrosion.
Take the red clamp and put it on the positive post on the dead battery.
Uncoil the battery cable and hook the other red clamp to the positive terminal of the battery that has a charge.
Place the black clamp on the negative post on the good battery.
Last, place the final clamp on a metal surface on the car's frame that isn't painted.
After you've got everything hooked up, start the vehicle with the good battery, then the one with the dead battery.
You'll want to leave the engine with the dead battery running for 10 minutes to ensure that the battery doesn't die.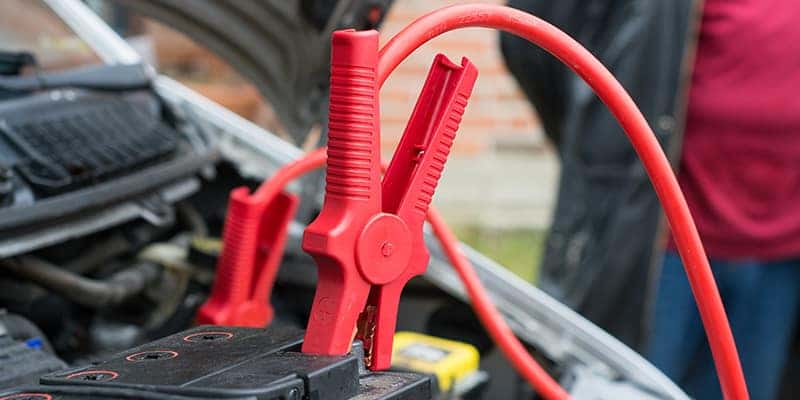 If your car won't jump start, it's time to come in and get your car serviced, as the dead battery might be indicative of bigger problems.
More Battery Tips and Tricks
Now that you know how to properly jump start a car, here are some other handy references for car battery care:
If your electrical system turns on but your engine doesn't turn over, the problem could be with your ignition switch, starter, fuse, or battery. This is a good time to visit your local service center.
If you start the car but only hear a clicking sound, this sounds like a starter problem. You can schedule service with us for your Fall River repair needs.
Come To Silko Honda For Your Battery Needs
If you've got a battery that needs replacing to or any other issue that requires parts, come to Silko Honda. We always offer genuine OEM parts that are the best fit for your vehicle. If it's time for maintenance, just contact us and we'll help you along the way with no problem.